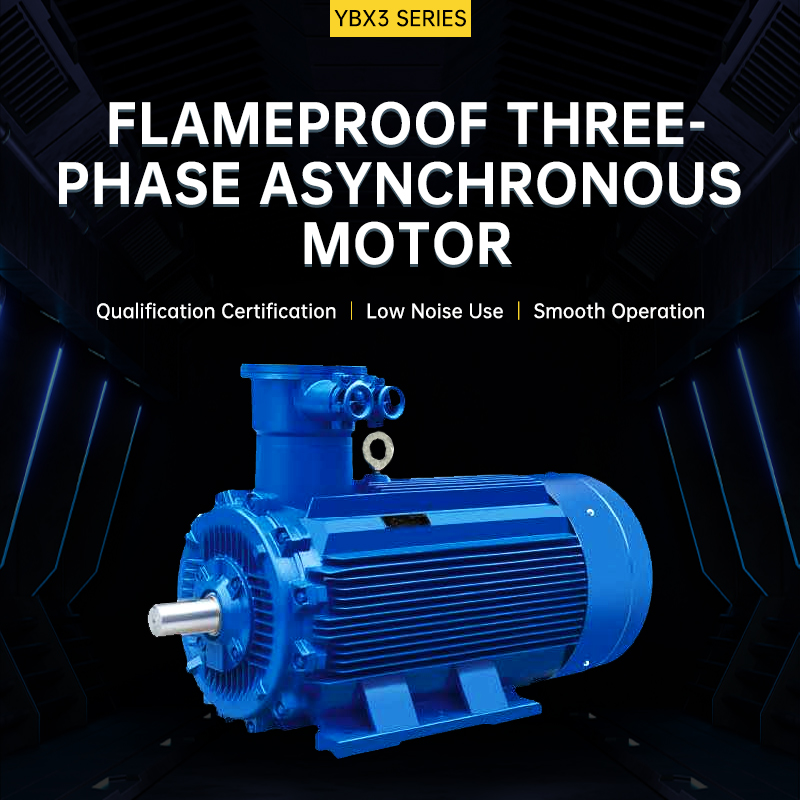 YBX3 series high-efficiency flameproof three-phase asynchronous motors are suitable for driving machinery and equipment in fixed equipment in underground coal mines (non-mining workings) or in Class 1 equipment in factories where the temperature group is T1-T4 and the explosive mixture of combustible gas or vapor and air is formed, mainly used in coal mines, oil and gas, petrochemical and chemical industries. YBX3 series high-efficiency explosion-proof three-phase asynchronous motors are used as the main power equipment, usually for driving pumps, fans, compressors, conveyors and other transmission machinery.
YBX3 series high-efficiency explosion-proof three-phase asynchronous motors have the advantages of high efficiency, energy saving, large temperature rise margin, long life, good performance, low vibration, advanced explosion-proof structure, excellent starting performance, beautiful appearance, high reliability and no electric spark during operation.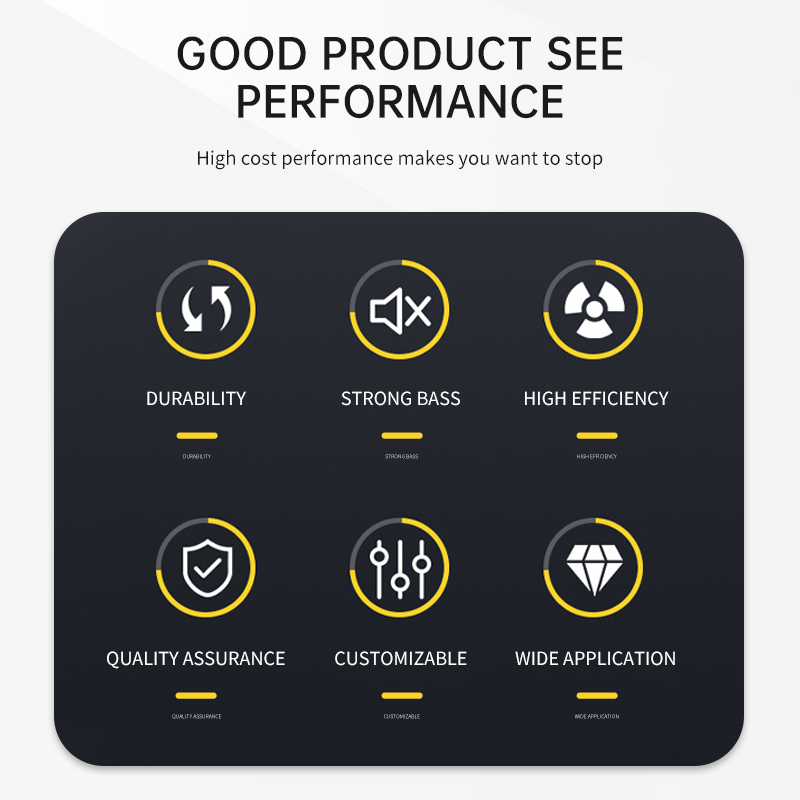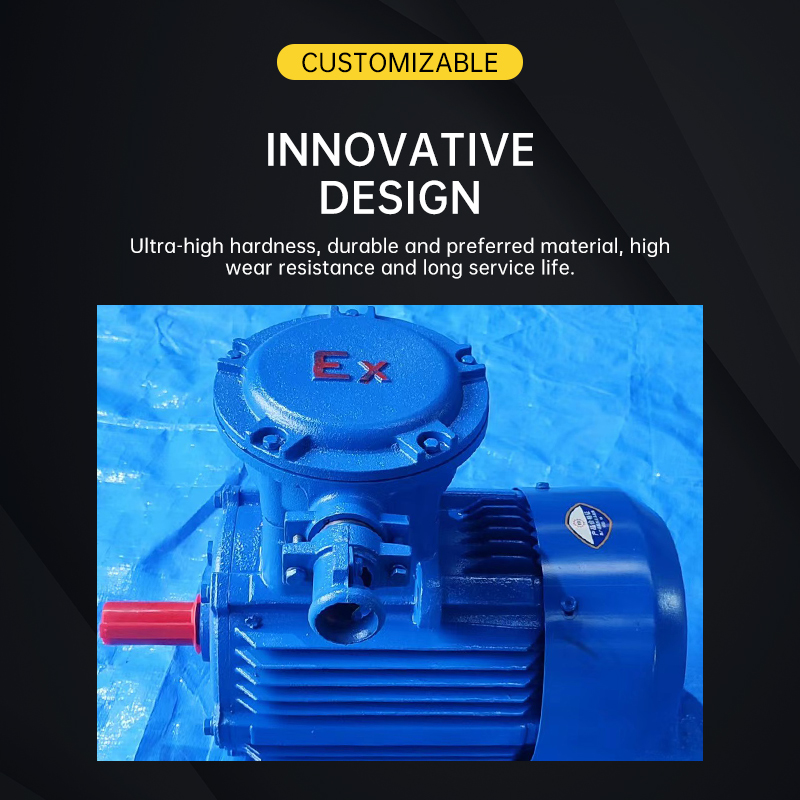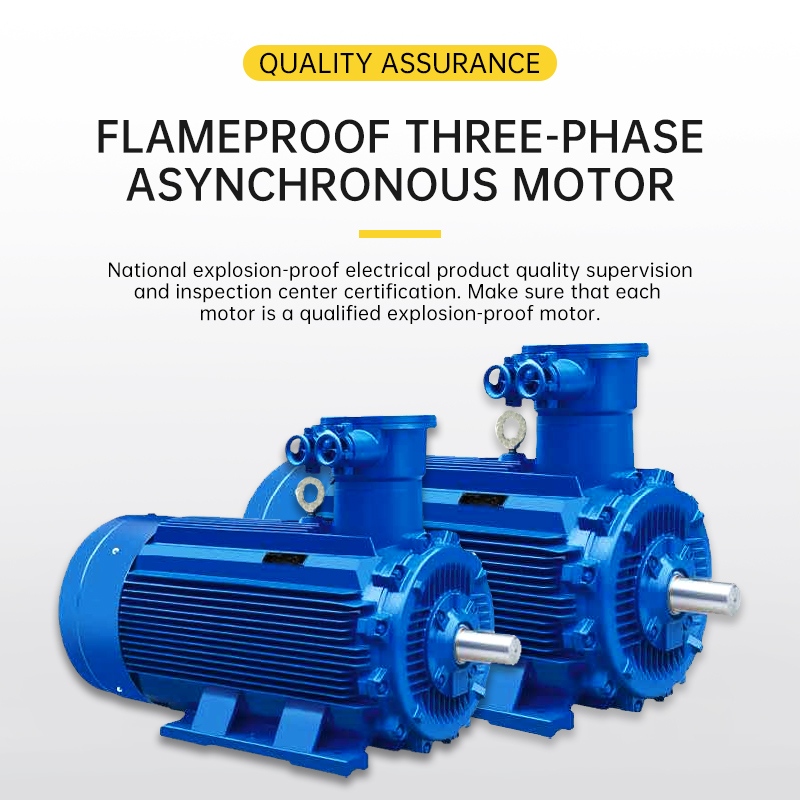 YBX3 series expiosion-proat three-phase asynchronousmotor(Frame range 63-355)is produced according to the following reguirement:GB3836.1-2012The explosive environment part one: the general requirenment of the equipmentGB3836.2-2010The explosive environment part twocthe equipment of explosion-proof case to protectland MT451-2011The general safety specification of the coal mine expioson-proof. low-voltage. three-phase asynchronous motorl.The explosion mark is EXDIGB、EXDIIBT4MB.Irs suitable to use the fixture which is in the mine incude the methane and core dust(EXDIGB).or the eauloment.which is in the place incude the explosive miurethe tvpe lrate Aand BfromT1-T4(EXD I AT4 MB、EXD II BT4 MB) of the ftemmable cas or stem and the air.nomaly it's used in the power equioment.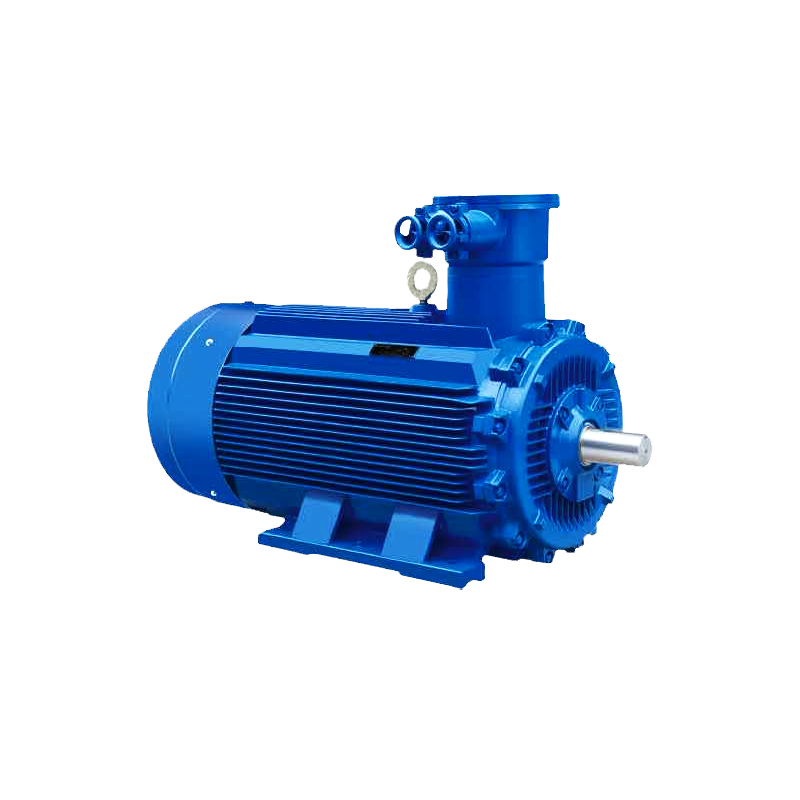 SICHUAN JIZE MOTOR CO.LTD.is a modern enterprise specializing in the production of various small and medium- sized motors. Its products mainly include YE2 series ultra-efficient three-phase asynchronous motors YE3 series ultra- efficient three-phase asynchronous motors YE4 series ultra-efficient copper rotors and YE3 series grids. Lanfu ultra- efficient aluminum housing motor,YD series pole-changing multi-speed three-phase motor,YOT seres pole-changing multi-speed three-phase asynchronous motor,YBX3 flameproof three-phase asynchronous motor,YH marine three-phase cage asynchronous motor series. YeT series Eleciromaonetic speed reaulating motorMs series aluminum shell three- phase asynchronous motor,YVF2 series variable frequency speed regulating three-phase asynchronous motor, YEJ series electromagnetic brake three-phase asynchronous motor,YK2 series screw motor,Yseries(P23)open motor and other products.
SICHUAN JIZE ELECTRIC CO,LTD.regards talents as the foundation of enterprise development. has a strong scientific and technological research and development team,has the most advanced automated CNC production equipment in the industry. advanced process equipmont. and uses advanced desian software for product desian.perect modenization The manacomeni system, strictly in accordance with the"ISO-9001national quality system certification management production, greatly impraved the speed and success rate of new product development,leading the industry, the company has advanced motor testing equipment so that product quality can be effectively quaranteed.As a resulit has won widespread trust and praise from customers at home and abroad. The company has passed China's CCC certification and CQC certification,ISO-9001 international quality system certification.CE certification.SGS certification(ROHSand obtained the national electrical product export guality license..We face the market with continuous innovation: our products sel well all over the country and are exported to more than 80 countries and regions such as Southeast Asia,Germany,Italy,Poland,the United Kingdom,France,the Middle East,South America,Africa, and Asia, It is widely used in air compressor.cleaning machine.water pumpfanmachinery,reducer and other host industries in China.
We are willina to cooperate wholeheartedly with friends from all walks of life with the highest quality products. the most favorable prices.the most thouahtful pre-sales.in-salesand after-sales services.and work together to create a better future.
Yan Yiliang
sichuanjize@163.com
Disclaimer: This article is reproduced from other media. The purpose of reprinting is to convey more information. It does not mean that this website agrees with its views and is responsible for its authenticity, and does not bear any legal responsibility. All resources on this site are collected on the Internet. The purpose of sharing is for everyone's learning and reference only. If there is copyright or intellectual property infringement, please leave us a message.