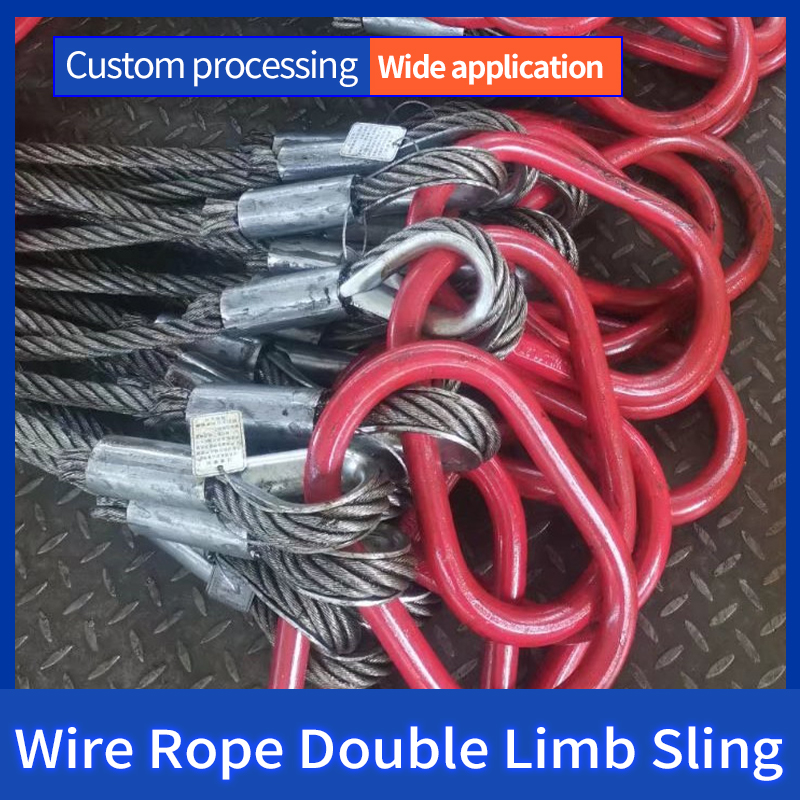 Wire rope slings are processed from steel wire ropes. The ropes that are mainly used for hoisting, traction, tensioning and load-bearing are called wire rope slings. It is widely used in iron and steel, chemical industry, transportation, port and other industries. The varieties of steel wire ropes used include phosphating coated steel wire rope, galvanized steel wire rope, stainless steel wire rope and smooth steel wire rope. The coated steel wire rope is resistant to wear and corrosion. For double-leg hoisting, the hoisting point should be located on both sides of the cargo, and the hook should be above the center of gravity of the hoisted object.
1. One or both ends are processed by plugging or pressing Ring-shaped.
2. Rigging cast with bus alloy or resin.
3. A rigging made by clamping the wire rope with a rope clip.
4. Use the method of coiling to form a jointless rigging.
5. According to the requirements, it can be made into single-limb, double-limb, three-limb, four-limb or more rigging.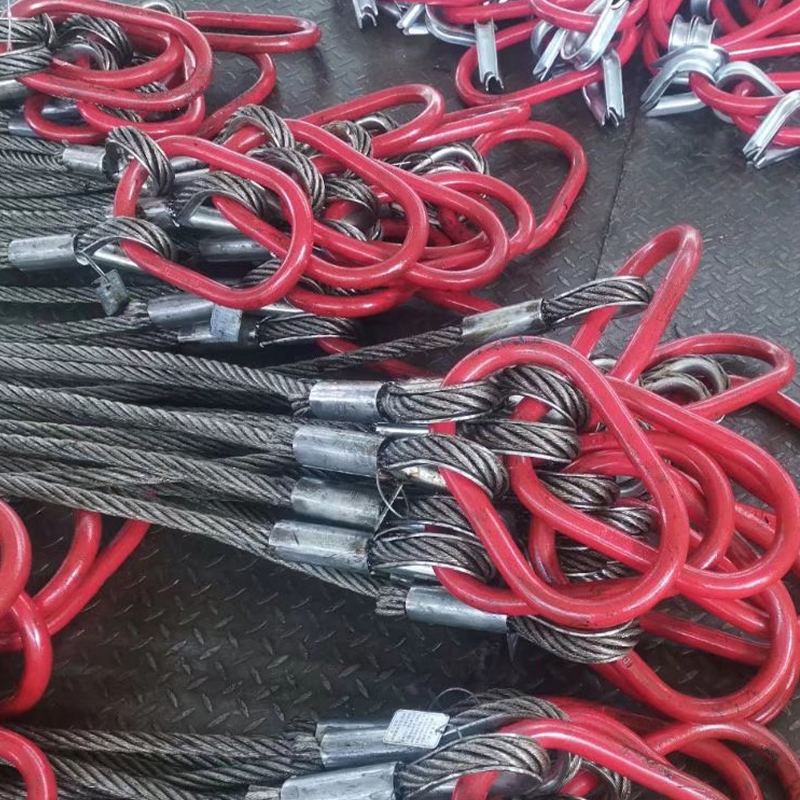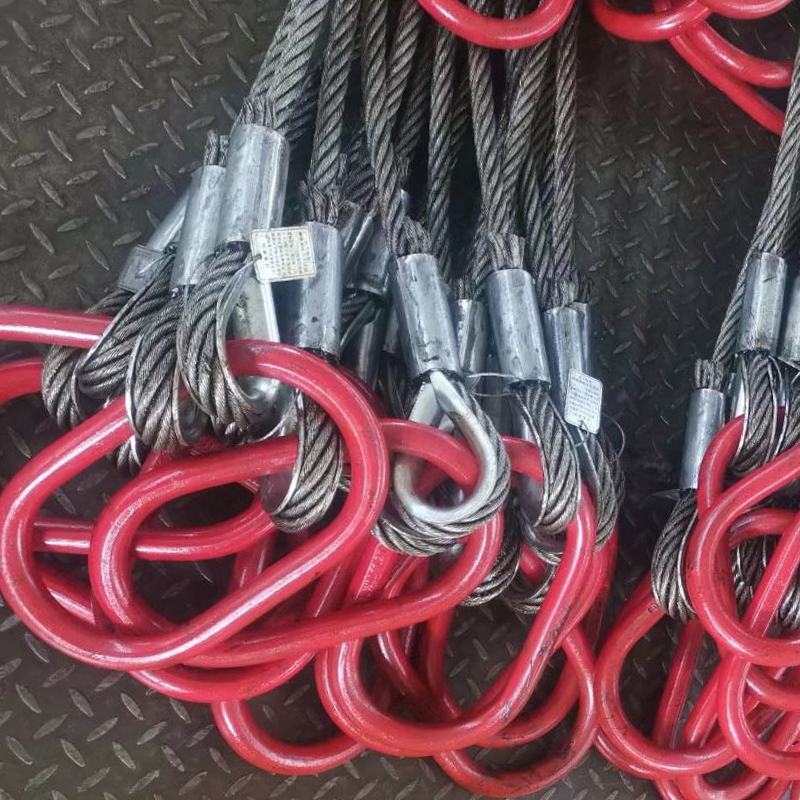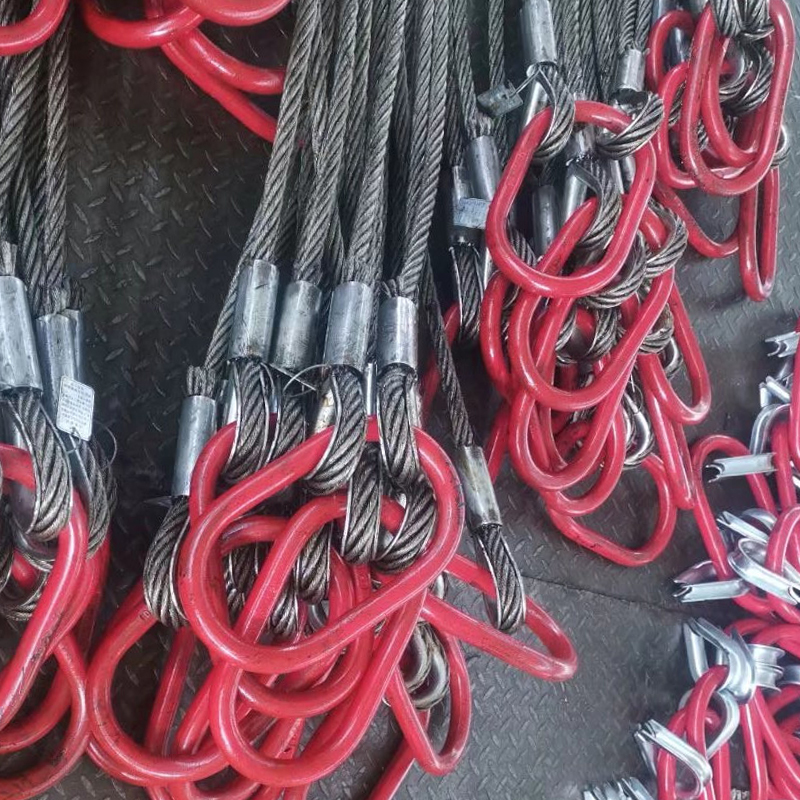 1. The wire rope sling can transmit long-distance loads, and the wire rope sling can withstand a variety of loads and alternating loads;
2. The wire rope sling has high tensile strength, fatigue strength and impact toughness; under high-speed working conditions, it has good wear resistance, shock resistance and good running stability;
3. The wire rope sling has good wear resistance and can work normally in harsh environments with various harmful media; the wire rope sling has good flexibility and is suitable for traction, pulling, bundling and other purposes;
4. The wire rope sling has a large bearing safety factor and is safe and reliable to use; the wire rope sling is light in weight and easy to carry and transport. 5. Galvanized steel wire rope can be used as raw material for steel wire rope rigging to enhance anti-rust performance when it is used in wet or open environment and other workplaces. 6. In addition to the wear of the outer layer steel wire, the wire rope sling is mainly broken due to metal fatigue caused by repeated bending when bypassing the hook and the suspended object. Therefore, the ratio of the hook or the suspended object to the diameter of the wire rope determines the use of the wire rope rigging. important factor in longevity.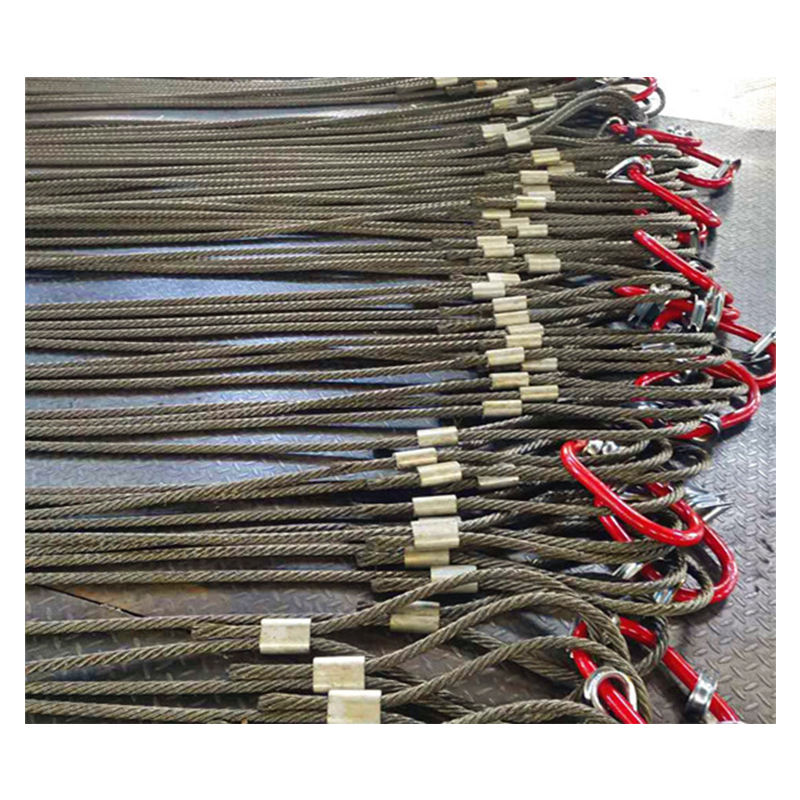 Xianyang Sanlong Hengli Machinery Manufacturing Co., Ltd. was established in 2007 and is located in Equipment Manufacturing Industrial Park, Xianyang City, Shaanxi Province, No. 33, Zhongchuangyue Silk Road Industrial Park
The registered capital is RMB 12,000,000. Since its establishment, the company has focused on the research and development, design and manufacture of various slings. As of June 2019, more than 100,000 pieces (sets) of qualified* various sling products have been provided to users. After years of development, it now has a production area of ​​more than 3,000 square meters, and has various types of wire rope sling manufacturing, including 600 tons, 800 tons, 1000 tons, 1500 tons of wire rope pressing machines, and various types of wire rope insertion machines. Various types of synthetic fiber sling manufacturing equipment, including high-strength flat sling weaving equipment, large-scale CNC circular sling production equipment, CNC high-temperature setting equipment and 200-ton horizontal tensile testing machines and other testing equipment; Complete sling processing and manufacturing capabilities. The annual output of various rigid and flexible slings exceeds 30,000 pieces (sets).
In 2008, the company was awarded the qualified supplier of sling materials from China National Petroleum Corporation; for 13 consecutive years, it has been designated as the supplier of special wire rope slings and slings for oil production equipment in Xinjiang Oilfield, Tuha Oilfield, Yumen Oilfield and other domestic oilfields; yes Weatherford (Weatherford), Schtumberger (Schlumberger), L.iberty Lift Solutions, LLc (Liberty Oilfield Equipment) are the world's top three sling suppliers for oil production equipment for oil service companies. It is the main supplier of slings and slings for Lianyungang Port Group for six consecutive years. The company's products are rich in variety and cover a wide range of main products: lifting belts, binding belts, C-type spreaders, balance lifting beams, lifting tools, steel plate lifting pliers, lifting wire ropes, complete sets of wire rope rigging, complete sets of chain rigging ,, rigging accessories and other customized products can be designed and produced according to customer requirements.
Guan Xinrong
37564845@qq.com
Disclaimer: This article is reproduced from other media. The purpose of reprinting is to convey more information. It does not mean that this website agrees with its views and is responsible for its authenticity, and does not bear any legal responsibility. All resources on this site are collected on the Internet. The purpose of sharing is for everyone's learning and reference only. If there is copyright or intellectual property infringement, please leave us a message.